Plumeau / Feather duster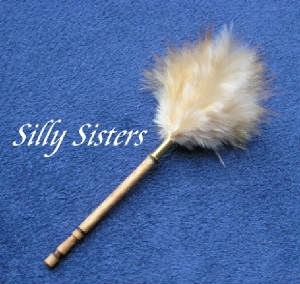 ontwerp van Silly Sisters / designed by Silly Sisters
Benodigdheden / Necessities:
Tacky Glue / Aleene's
Verf in de gewenste kleur / paint in the colour you like
Verfkwastje / paint brush
Eventueel een pincet, tweezers
3d schaartje / a pair of sharp pointed scissors
Kniptangetje / a cutter
Cocktailprikker (het liefst eentje met een sierrandje) / Cocktail stick ( we prefere a fancy turned toothpick)
Donsveertjes / feathers
Koperkleurig holnietje van 0,5 cm lang / 1 hollow eylet
1 kopspeld/ 1 pin
Meetlint / tape-measure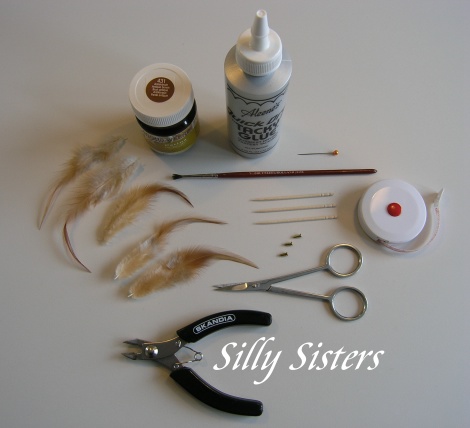 Wij wensen u veel plezier bij het maken van de Plumeau !
Enjoy making this feather duster !
Stap 1:
Knip de cocktailprikker op de gewenste lengte af met een kniptangetje (lengte: + 3,2 cm). Schuur eventueel het geknipte randje glad met fijn schuurpapier.
Step 1:
Cut the toothpick at a length of appr. 1,26 inch. If it is necessary you can sand the end of the toothpick with a piece of fine sandpaper.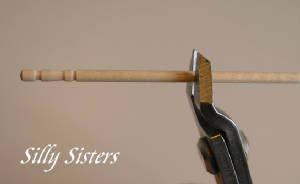 Stap 2:
Verf het stokje in de gewenste kleur, laat dit vervolgens drogen.
Step 2:
Paint the toothpick in the colour you like, let dry.
Stap 3:
Knip het donsgedeelte van enkele veertjes af (lengte van een veertje: + 3 / 3,5 cm) en maak het onderste gedeelte van het veertje kaal.
Step 3:
Cut a piece of down from several feathers length appr. 1,18 / 1,37 inch. Cut a piece of the lower part of the down ( see photograph)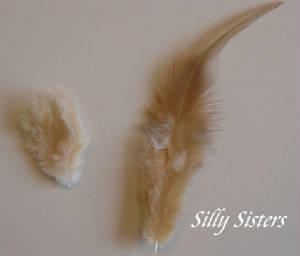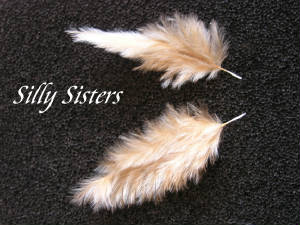 Stap 4:
Doe met behulp van een kopspeld wat Tacky Glue in het koperkleurige holnietje (aan de boven- en onderkant) en stop vervolgens de veertjes, stuk voor stuk, in het holnietje (de veertjes mogen uitsteken aan de onderkant van het holnietje). U kunt eventueel een pincet gebruiken bij dit klusje. Zorg ervoor dat niet ieder veertje even lang is en naar dezelfde kant wijst, dit zorgt voor een onnatuurlijk effect. Laat goed drogen ! Als de lijm goed is opgedroogd, knipt u de veertjes af welke aan de onderkant uit het buisje steken.
Step 4:
Use a pin to put some Tacky Glue within the hollow eylet (upper- and lower part). Put the feathers into the hollow eylet (one after the other). It is allowed that the feathers stick out to the lower part of the eylet. When the glue is dry you can remove the pieces of feathers which are sticking out of the lower part of the eylet. You can use a tweezers for this job.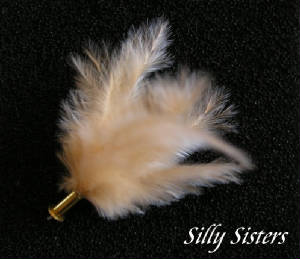 Stap 5:
Lijm het holnietje met daarin de veertjes met Tacky Glue op het stokje en laat het geheel goed drogen.
Step 5:
Glue the hollow eylet (with feathers) on top of the toothpick. Let dry.
Proficiat, de plumeau is klaar !
De voorjaarsschoonmaak kan beginnen !
Congratulations ! You have just made a feather duster ! Let the spring-cleaning begin !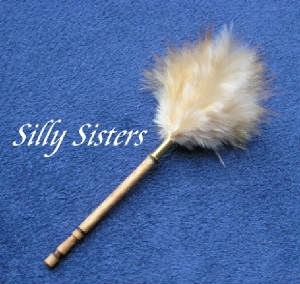 Deze workshop mag niet voor commerciŽle doeleinden gebruikt worden.

No part of this workshop may be reproduced, all rights reserved.

Copyright © 2005 Silly Sisters